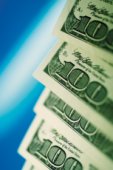 Inadequate Cash Flow Can Cripple a Foreclosure Clean-up Business -- If You Don't Know Where to Turn
One of the biggest hurdles for new businesses is maintaining adequate cash flow to keep the enterprise alive while you're waiting on the checks to start flowing in. You've already completed the foreclosure clean-up work, now you're waiting 30, 60, 90 days to just get paid.
There are cash flow solutions out there to help you handle cash flow problems. One such solution is factoring companies.
What is Factoring? Factoring is when a business sells its invoices at a discount to another company. For example, your foreclosure cleanup business just finished a job for ABC Bank and you have submitted them with the $5,000 invoice. Their accounting process for payment takes 30-60 days for your foreclosure cleanup business to get paid. But you need your money, now!, so you can pay your workers, reimburse yourself for all the money you've spent replacing broken windows, etc.
A "factoring company" (factor) will step in and say they will pay your foreclosure cleanup business the $5,000, minus the 15% fee ($750) they charge, and the factoring company will wait the 30-60 days to get paid from the bank. The factor allows your foreclosure cleanup business to have your money for the invoice (which you will have sold to them for the 15%) within 24-48 hours.
The factoring company's fee may seem high, but that's how they make their money. They are not basing their decision to factor your foreclosure cleanup business on your credit or your business' credit. Instead, they are basing it on the credit of the bank that owes your foreclosure cleanup business the $5,000.
Read this portion over again so you get it. You may have lost 15%, but you will have "gained" that all important cash flow. And, the name of the game in the foreclosure clean-up business is cash flow if you are to stay open so you can ultimately grow. If you have liquid cash and you can float your foreclosure cleaning business using your own stash as cash flow, super! But, if not, factoring is not a bad option. It can be expensive, but it may be necessary to stay open and to ultimately grow.
WARNING: Some factoring companies may demand that your foreclosure clean-up business factor all of its invoices with them (not just the big invoices, but the little $175 jobs, too). Consider not going with those particular companies in your foreclosure cleaning business. You want to be able to factor the invoices you want and need to factor, not all of them just because you have a relationship with that factoring company.
Also, some factors may try to lock your foreclosure cleaning business into a contract for a certain period of time. Consider not locking yourself and your business in. Your relationship should be based on an invoice-by-invoice basis, no matter the norm in the real estate industry. Everything's negotiable, and it's your money, so ask for the moon when negotiating and work your way from there.
Pros of Working with a Factoring Company
The main benefit of working with a factor is quite simply that your foreclosure clean-up business gets its your money fast. You will have adequate cash flow to pay your workers, compete for other jobs, and keep growing your business!
Cons of Working with a Factoring Business
The primary negative in using a factoring company is it can be expensive. The fees are generally pretty high.
Bottomline? Look at your foreclosure clean-up business, your scenario, your cash flow situation, and decide what works for you. There is no right or wrong answer when it comes to factoring.
Good luck, and continued success with your foreclosure clean-up business!

Why a Real Estate Contracting Service is a Lucrative Business to Start in a Market Full of Foreclosures
Click HERE for Full List of Industry Products.