REMINDER: See "Golden Nuggets" below for FREE information provided only to you as a valued Premium Newsletter Subscriber.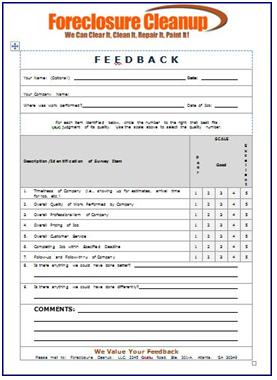 Feedback Form for Your Foreclosure Cleanup Business
Give Clients What They Want and They'll Use Your Business Over and Over Again
Feedback from your clients is key in structuring your foreclosure cleanup business. Why? Because client feedback guides you in ultimately structuring your business to fit what your clients want and expect when it comes to services and customer service.
Structure Your Business for Growth
Customers love it when you illicit their opinions and implement suggestions. The insight you will receive from their feedback will be invaluable in structuring your business for growth.
Get More Business by Using a Foreclosure Cleanup Feedback Form
Create a Feedback Form for your company's in-house use and plan to send it to clients you've serviced. Sending them the form as an email attachment or via regular direct mail (include a stamp so they can mail it back to you) will afford you the legitimate opportunity to get your foreclosure cleanup company name in front of them again and get more business.
Utilize the Foreclosure Cleanup Feedback Form to Win "Mind Share" in the Industry
Winning "mind share" in the industry goes hand in hand with staying in front of your customers. Use the Foreclosure Cleanup Feedback Form to help win mind share and to illicit key feedback from your customers as you position your business for growth.
Do you have a feedback form in use in your business so you can get key information from your clients? If not, create your own (see Golden Nuggets below) or download the form
here
for your foreclosure cleanup company's formal in-house use.
Many wishes of great success to you as we prepare to head into what will be a busy season in the foreclosure cleanup industry.