Hi Foreclosure Cleanup Business Owners & Industry Colleagues,
(Don't forget to see the new "Golden Nugget" below ... it contains valuable contract verbiage you can use for your business since you are a valued Premium Newsletter Subscriber.)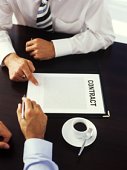 10 Quick Tips about Foreclosure Cleanup Business Contracts
Many times new business owners are so eager to get the phone ringing that they forget the all important contract when the calls start rolling in. If a realtor, investor, homeowners' association officer, mortgage company, or bank calls a foreclosure cleanup business to perform a job, the first thing the business owner performing the work should do is discuss the terms of the contract. The discussion will be verbal, but the final terms should be cemented in written form: a formal contract.
The client may have their own contract, but try to use your company's contract or at least attach it to the existing client's contract as an exhibit of sorts.
The contract particulars for foreclosure cleanup businesses should, at the very minimum, include the following:
1. The parties involved and their full contact information (name, address, email, phone, other). This will include the contractor (the foreclosure cleanup business and owner) and the client -- the person and/or entity for whom the work is being performed (i.e., realtor, investor, homeowners' association officer, mortgage company, home buyer, bank, etc.). Note: If the client is a realtor, the broker's contact information should also be included on the contract.
2. The property address where the work will actually be performed.
3. The full scope of the job being completed. Include as many details as possible in this section.
4. The outlying of who will provide equipment and supplies needed to complete the job.
5. Particulars related to utilities being turned on timely for contract performance (i.e., water and electric).
6. The start date of the job and the date of completion.
7. The price with a notation that the price will change if certain factors change (this is where an eventual "Change Order" may come into play).
8. How the foreclosure cleanup contractor will be paid (i.e., check, cash, wire transfer, credit card, etc.).
9. Late fee considerations and add-ons as it relates to being paid.
10. Signatures of both parties.
This above inclusions outline minimum requirements that should be included in a contract for foreclosure cleanup businesses working with various real estate industry clients. Because the industry is real estate and the very nature of the business includes foreclosures, there are several other contractual considerations to be taken into account in drafting a foreclosure cleanup contract to protect the business owner. But, at minimum, the above should be included in the written agreement before a foreclosure cleanup owner accepts a work assignment from any client.
Many wishes of success with your foreclosure cleanup business!

Cassandra
Foreclosure Cleanup, LLC
Foreclosure Cleanup Products to Grow Your Business
Cassandra Black is the Author of Property Preservation & Real Estate Contracting & Subcontracting Directory, How to Start a Foreclosure Cleanup Business: FREE Articles & Advice Blog, How to Start a Foreclosure Cleanup Business, How to Register Your Business with HUD & Other Government Contracting Agencies: One-Stop Resource to Locate Government Contracts, Pricing Guide for Foreclosure Cleaning & Real-Estate Service Businesses, How to Market Your Foreclosure Cleanup Business, the Foreclosure Cleanup Business Combo Estimate & Contract Form, (and other cleanup business forms) and the Housing Authority Master Contacts List with Bonus Search Tool. Cassandra is also the CEO of Foreclosure Cleanup, LLC, Real Estate Cleanup, Atlanta, GA, and an Investor & Landlord (TheCassandraGroup RE ).
Failed Banks Listed by Month
Visit this link to see which banks closed in which month. (Remember, the acquiring institutions of failed banks can be fertile ground for foreclosure cleanup businesses.)
New GOLDEN NUGGETS
Exclusively for Premium Newsletter Subscribers

CHANGE ORDER VERBIAGE:
Here's verbiage to include in your contract as it relates to Change Orders (We include this in our company contract.):

"A fully executed Change Order is required for any alterations to work specified. Any additional work required due to site conditions not disclosed to Contractor, or which could not be reasonably anticipated, are not included in the Estimate Amount, and shall be completed upon execution of a fully executed Change Order which will be attached to the Estimate."
Previous Golden Nuggets
http://www.irs.gov/businesses/small/article/0,,id=97860,00.html.

Tip: To locate your County Clerk's Office, GOOGLE phrases like "Your County Name" and County Clerk; or "Your City Name" and "County Clerk".

Business Rules for Your State: To find out rules, regulations, business registration and filing requirements in your state for doing business, visit this government link and find your state:
D-U-N-S Number Tip: Don't "pay" for a D-U-N-S Number! Some companies charge $149 and up when they box it with other services. Getting your number is free, free, free if you are signing up as a vendor on government contract registration websites.
_____